Not your average apparel
GearUp has a focus on integrating your brand into the form of personalised team and work apparel. We custom design each individual piece to a unique result with your identity at the forefront. Every brand is different, so what you gear up in should be exclusive.
GearUp is the product of being frustrated with the off the shelf apparel industry, where generic limitations not only sees everyone looking the same but recognise a clear wasted opportunity for brands. Our background means we have an understanding of the problems when it comes to gear up your team, after being tired of hearing the issues, instead, we listened more to employees which gave us insight of the individual, combined with our marketing experience, GearUp was created and given the responsibility to fix this ongoing problem.
The benefits of custom means not just bells and whistles, but the ability to be endlessly flexible. No one likes to look like their competitors, every brand is different, so every approach is different, and now you don't have to shop from the same catalogue. GearUp offers a full consulting design service guiding you through the conceptual stage to meet your exact comfort, function and form requirements, through to how your brand visual identity is applied to your specific apparel piece. The way you present your team at work or play should reflect your identity for unity and better brand awareness.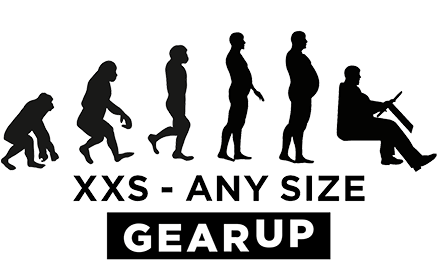 Teams can be large or small and not just in number, there is a difference between a can or a keg, it's simple – we are not all the same, so fits are not all the same. Once we establish your fresh unique gear through our design process, our problem solving doesn't skid to a holt there. We know that due to off the shelve sizing people miss out, and no one shall be left behind here. We can add as many X's in front of the XL as you want, this means your team can be consistently uniformed and all looking sharp.
---
Services
Custom designed apparel
Brand integration
Graphic design
Apparel packaging
Consulting
Manufacturing management
Marketing packs
Pattern creation
Apparel brand production management
Stock consignment & management
---
Your idea, our execution
Have an idea for your own fashion or apparel brand? But need help getting it into gear? Let us take it from here.
We have national and international sourcing connections and capabilities. If you have your creative idea, we can work collectively to nurture this along to help you get up and running ready for the retail rack.
From the pattern to the prototype, to the stock storage, stop wondering how, and talk to us about how we can get it done.